Services
The friendly Royal Results team provide everything necessary so that meet management, athletes, and spectators receive quick and accurate and results. From seeding to real time posting of results on the web, Royal Results is a great choice if you want to have a quality event which stays on schedule.
Meet Management
Royal Results is a Hy-Tek certified Independent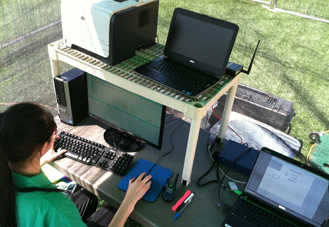 Timing Contractor which uses Hy-Tek's Meet Manager and FinishLynx® photo finish timing system for complete automatic results processing. The meet management software provides all heats and flights using predetermined seeding formulas and prints out heat and flight sheets for judges to use for officiating each event. The software has functions that will do team scoring, forming heats and flights, and advancement from round to round. Complete results are ready quickly after each event, and can be posted on the web minutes after each event.
Timing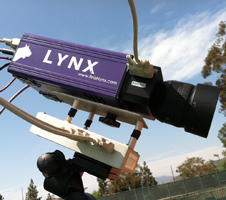 Royal Results can provide from 1 FinishLynx® camera on 1 finish line up to multiple finish lines with back-up reverse side coverage. All FinishLynx® cameras, computers, and ethernet switches are powered with a back-up battery. RadioLynx is used to provide dependable accurate wireless starts. In addition to FinishLynx® cameras, Royal Results also employs an IdentiLynx camera which provide a front view image of every person crossing the finish line. This is a huge help whenever a runner's number is obscured.
Results
Running event results are available immediately after each event in a number of ways. Finish line clocks display the unofficial time immediately after the first competitor finishes. As the event is judged, the official time (including wind) is displayed to the announcer before the race is complete. After the race is completed, official results are displayed on the Royal Results LED display board, and the stadium display board if available. Field event results are available soon as possible after they are reviewed for accuracy. When requested, FieldLynx units are available for immediate result posting. As each field event is contested, the athlete's mark is entered and displayed locally on 3' x 6' display boards. The name, mark, affiilation (watermark logo), and current place is displayed. This enables the audience to follow each events competition as it progresses. Printers can be set-up in various locations to provide detailed results for announcers, the press, or posting for spectators and athletes.
Displays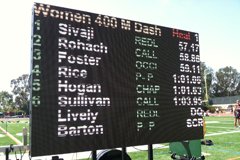 Royal Results can provide running clocks at the start & finish lines as well as at the 100m, 200m, & 300m splits. Results can be posted on a large 12' x 8' full color LED display board as well.. ResulTV is used to provide real time running time and results to the announcer, television feed, or the press room. In addition, 3' x 6' full color LED field event display boards are available.
Web Services
Royal Results can post results on the web moments after each event. In addition, HTML files can be provided for your own site. http://www.royalresults.com/liveresults/
Chip Timing
Royal Results also has the ability to provide results for large cross country, road races, and marathons utilizing TrackerLynx & Ipico chip based timing system. TrackerLynx combines the best of 2 proven technologies (chip + image) to assure every participant receives an accurate time soon after they complete their run.